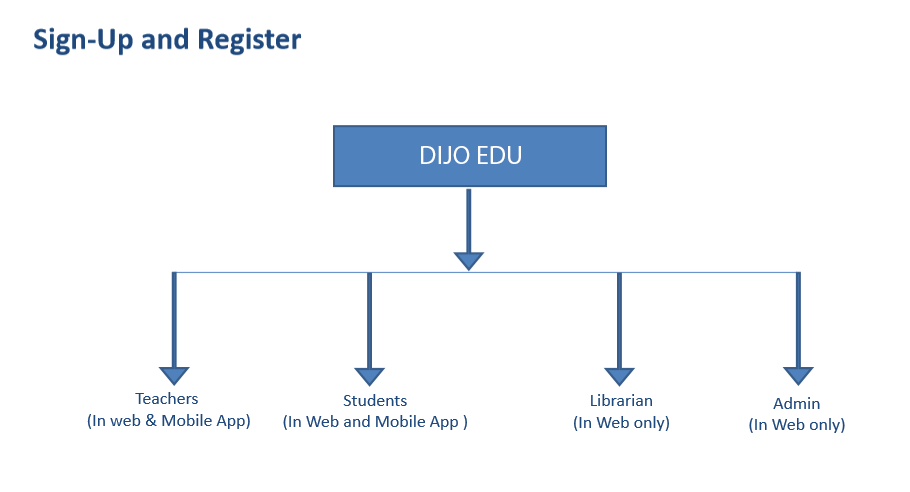 Dijo Edu is a Mobile and Web App. This is a customizable application developed with latest technology to create a remote platform between teachers and students to impart knowledge and manage learning activities.
This is a Web and Mobile based remote learning platform to deliver, manage and monitor distance education.
Administrators can manage subject, course, students' and teachers' records. They can define class routines, manage registrations and admissions, assign courses, summarize attendances, conduct examinations and produce results.
Professors can view their class routines and take online attendance of the students, can upload different type of study materials for their students. They can communicate with students, assign task and provide feedbacks/comments.
Students can view their class routine any time, anywhere by login with Username and password in this app. The student also access to view the attendance, study material, and operate library. They are always updated by app notification, messages and results. Through the app student can contact the administration any time.
See our Service Type
Choose your Service plan .
Monthly Rental
subscription
Dijo App Services
Attendance and Leave
Study Material
Email Integration
Support
Sign Up
On Premise Setup
Subscription
Dijo App Services
Study Material
Admin Login
Email, SMS Integration
Email Support
Sign Up
Per Student Model
Subscription
Dijo App Services
Study Material
Student Login
Email Integration
24*7 Remote Support
Sign Up